Recommended to me by an editor whom I trust, this book redefines both space operas and troubled protagonists, bringing them together in the form of a noble and reluctant space pirate captain: Miles Vorkosigan.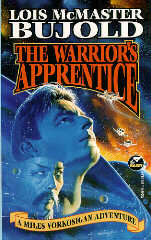 Poor Miles. His stunted form and brittle bones prevent the young man from joining his home planet's military academy. Instead of taking up an honorary post, he embarks on a trip to the stars, but what he finds there isn't what he expected.
This novel will have you rooting for Miles and his companions to succeed against all the odds.
Note: this is only one in an extensive collection of stories Bujold has written in Miles's universe which spans many worlds and decades.