Note: This is the first in a series of blog posts about NASA's Jet Propulsion Laboratory (JPL). In this post I describe what I saw during a tour of JPL. In the next post, I'll summarize the most interesting active missions under JPL's control and what those will tell us about our universe. In the final post of the series, I'll look at upcoming missions, including a spacecraft that will go to Europa.
Touring JPL was nerd heaven. At the first stop in the museum, I saw a scale model of Explorer 1, the first satellite successfully launched by the United States of America, which discovered the radiation belts surrounding the Earth.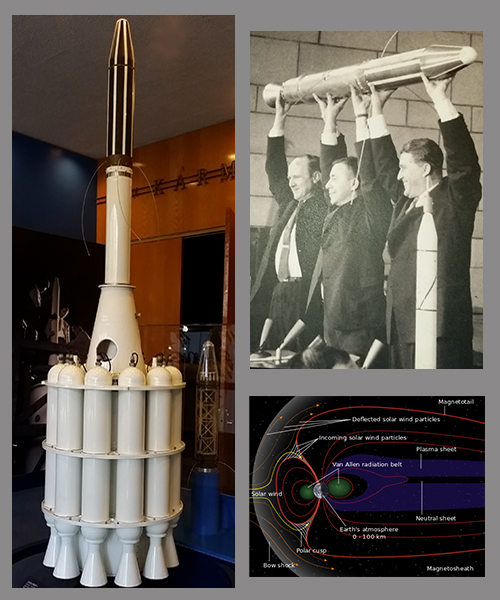 The tour group was led into an auditorium that included a full-scale model of Voyager I (although missing a long magnetometer boom), which made an appearance in the first Star Trek movie.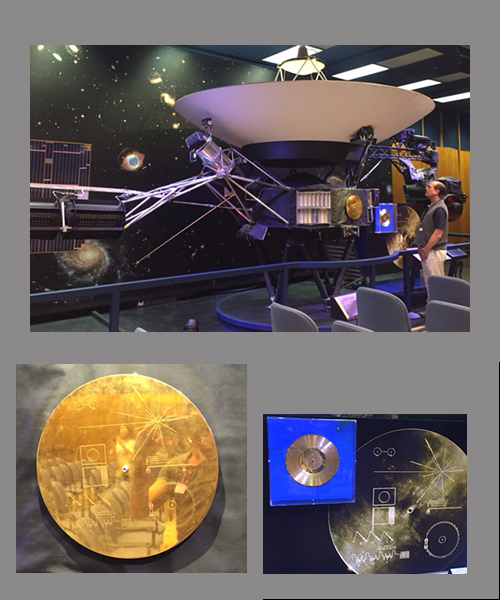 The other wing of the museum held scaled down replicas of many of the satellites, probes, and spacecraft responsible for major observations and discoveries over the past 30 years. One of my favorites, Mariner 10, flew by Venus before going into orbit around Mercury.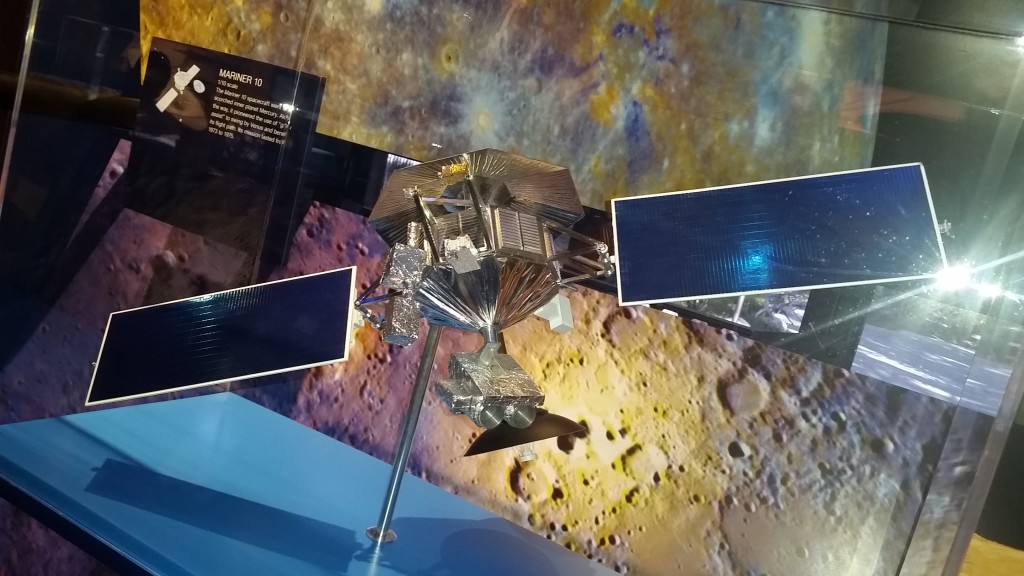 The highlight of the museum visit for me was a moon rock collected during one of the Apollo missions. A piece of the moon–on Earth! 🙂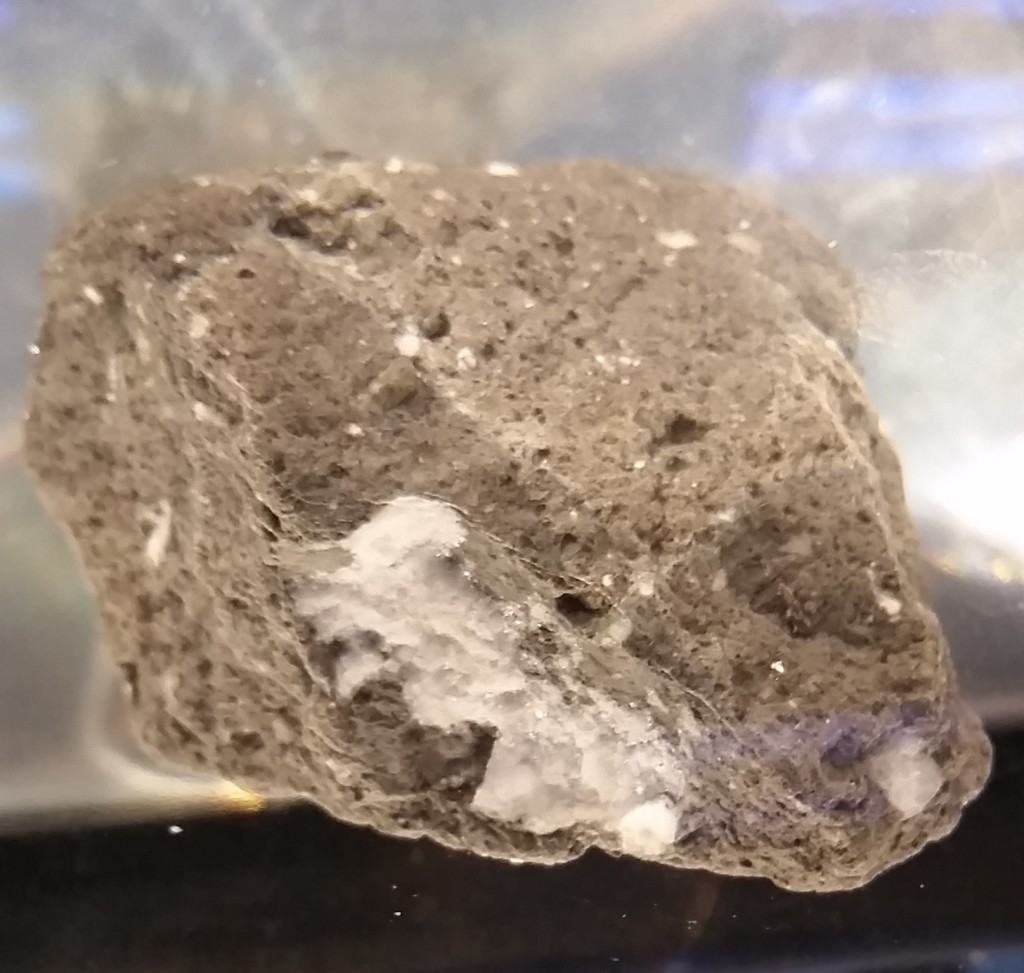 The tour brought us to a testing area where duplicates of the Mars rovers are tested. This is where they troubleshoot situations like broken wheels, sand pits, and other hazards that the rovers contend with.
The most mind-blowing part of the tour was the visit to JPL's Space Flight Operations Facility. From there, JPL controls the Deep Space Network, an international array of radio antennas that keep track of and communicate with active missions throughout the solar system. The Deep Space Network relies on antennas at Goldstone, near Barstow, California; near Madrid, Spain; and near Canberra, Australia. The spacecraft that send and receive information through the Deep Space Network include:
Voyagers 1 and 2, both of which are so far from the sun that we're starting to get data of interstellar conditions for the first time
New Horizons, the probe that recently swung past Pluto and is relaying data that have completely reshaped our view of the planet
Mars Reconnaissance Orbiter, which relays signals to probes and rovers on Mars
Dawn, the first spacecraft to use an ion-drive for propulsion, is  visiting the largest asteroids in between Jupiter and Mars, including Ceres and Vestas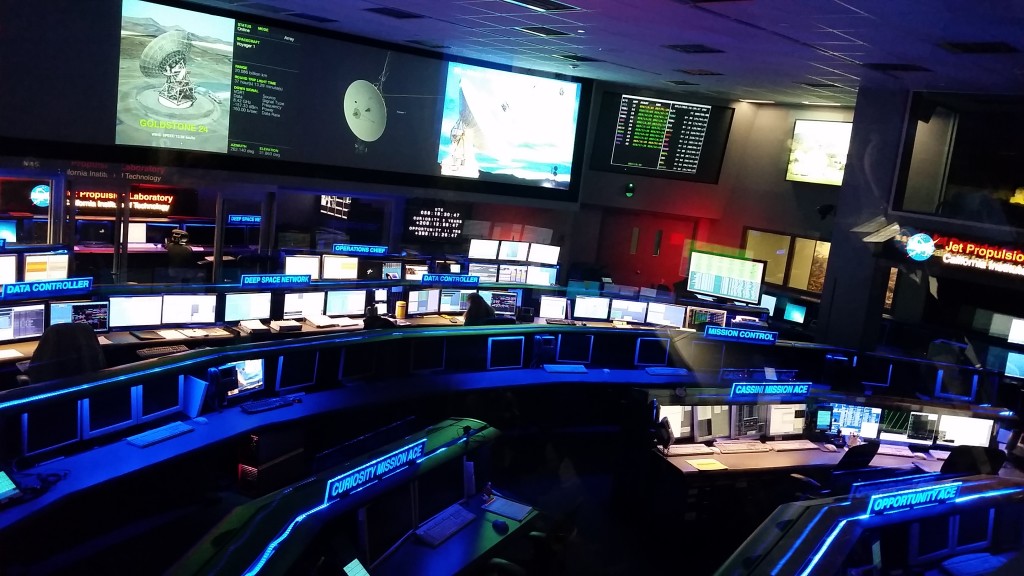 Live streams of data poured through JPL's networks and we got to see a glimpse of it.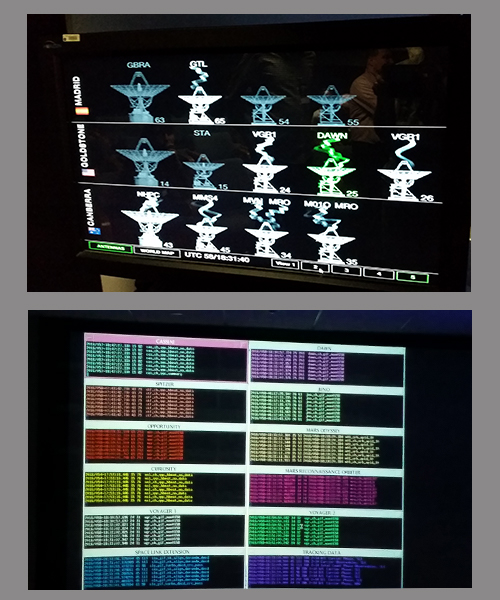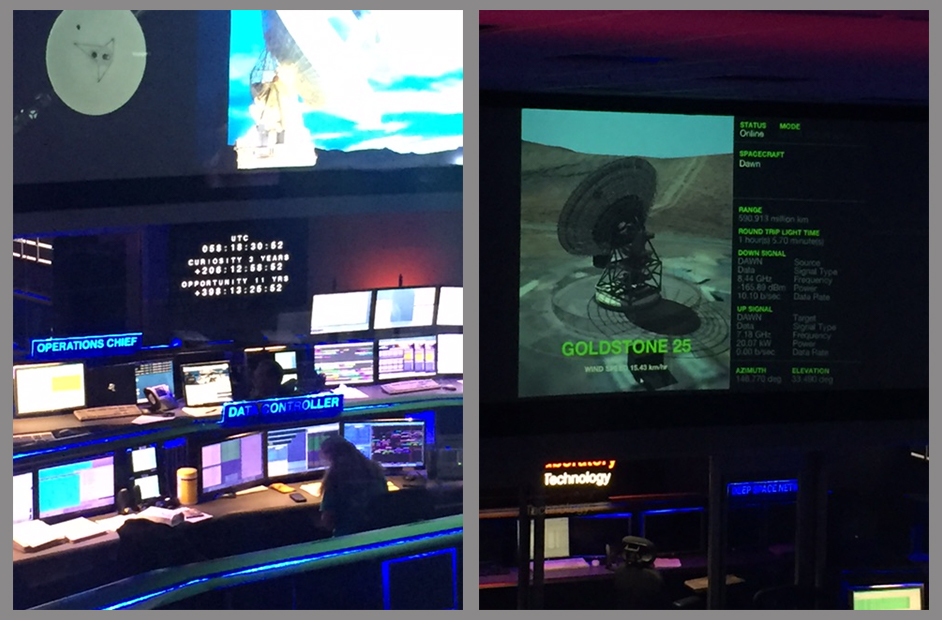 I hope to visit JPL again, and I highly recommend it to anyone in the Los Angeles/Pasadena area. Tours can be booked here. Or you can read all about JPL on their nicely designed website.
Next up: a summary of JPL's ongoing missions and what they mean for astronomy, planetary science, and cosmology.