For me, 2017 was all about dissonance. So many things I hold dear have come under attack. And yet at the same time my career flourished.
I'm learning to not be ashamed when I have good news to share and that being a writer at this time in history means I have an obligation to speak out. Mainly I do this through my fiction by raising questions about how our world could be different. In addition, I aim to share my writing journey with my fans.
Below is a brief rundown of 2017 from a very personal perspective.
But first, since so many of you are fans of the fantastical, check out this deal featuring authors piercing the veil to see what lies beyond.
#1 My Indie Author Journey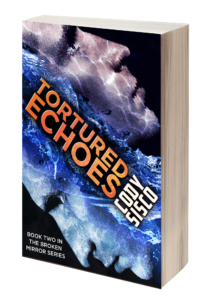 This year saw a pretty significant milestone in my writing career: the publication of my second novel, Tortured Echoes. It's the second in my literary sci-fi series set on Resonant Earth, which is variously categorized as cyberpunk, alternate history, LGBT sci-fi, and/or utopian. It follows the adventures of a mentally ill young man who believes his grandfather was murdered.
If you like challenging, thought-provoking, character-driven science fiction, you can get both books on sale through the end of the month here: www.brokenmirrorbook.com/links/
It's been a wonderful journey to become an indie author. As of today, I've sold 928 copies of my books digitally and in print, which is better than average and bodes well for the future. More importantly, I've met so many amazing book lovers, writers, and publishing industry professionals. The generosity and gregariousness of this purportedly socially awkward community have been stunning, surprising, and so much fun.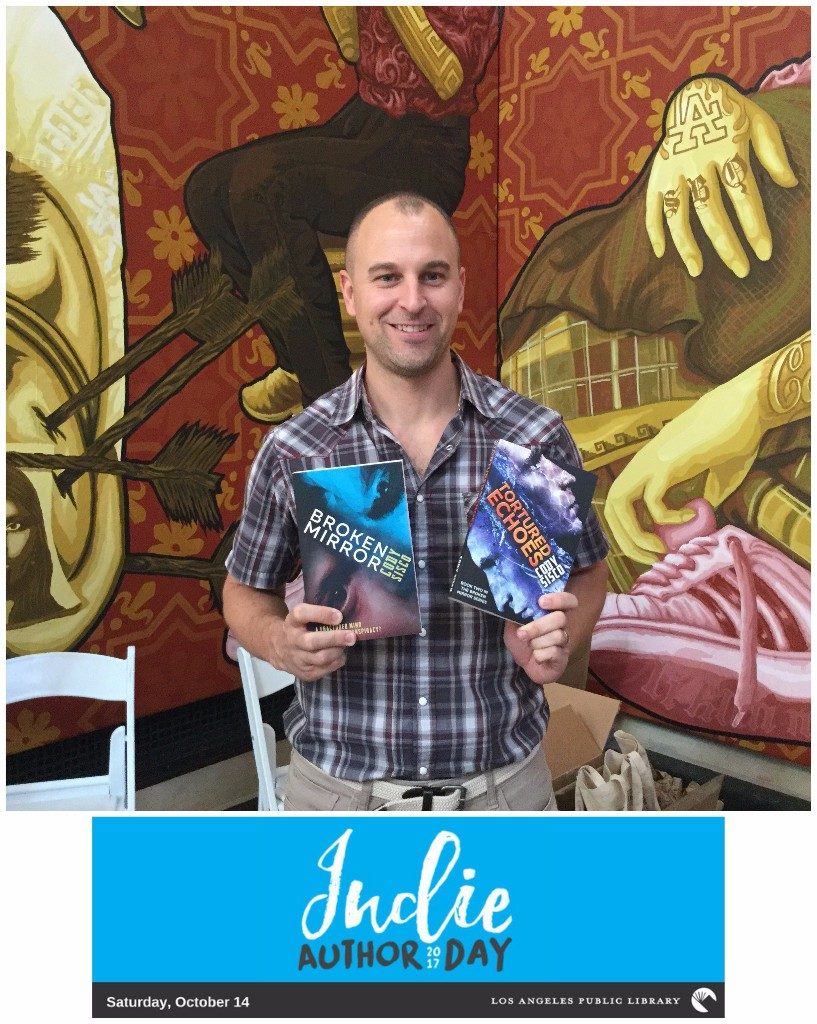 I'll leave off with a few little-known facts: my writing has improved a lot over the years, and I consider my second book to be a better example of my craft. I'm currently working on my third novel. Once it's finished I plan on doing a second revised edition of my first book. And then: AUDIOBOOKS!
#2 Building Writing Communities
For the past several years, I've been co-organizing a writing critique group called Northeast Los Angeles Writers Group (soon to change its name to Los Angeles Writers Critique Group).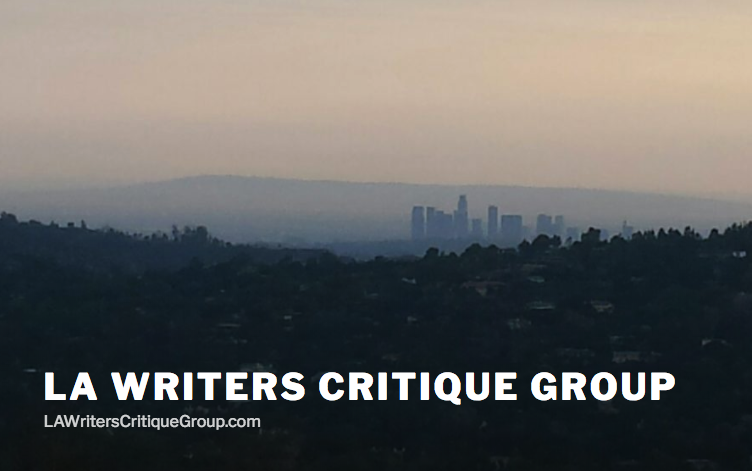 The group meets three Saturdays a month in the morning. Although the nominal group membership stands at 793, we usually have between 8 and 15 writers attend each week.
Twice a month we meet in a basement-like space in a library in Pasadena with brick walls and terrible acoustics. Other times we meet in a Silver Lake library meeting room with modern lighting, 30-foot ceilings, and a whiteboard, which brings back memories of so many meetings from my consulting days at BSR.
I create and give mini-writing lessons before the critiques. This week's lesson covers the different modes of manuscript revision and contains tips for transforming a work-in-progress.
Providing leadership to this group is a way of giving back to my community. I got my start with my writing career in this group and learned so much from the critique process, both giving and receiving. Now it's an opportunity for me to give back and help emerging writers hone their craft and take their first steps toward publication.
Fun fact: this obligation/privilege has transformed my Friday night experience. Rather than, "go out big," Jay and I will usually visit our local wine bar then settle in for sleep at home before "the kids these days" have started getting ready for "da club."
www.lawriterscritiquegroup.com
#3 Finding a Tribe (of Writers)
This is a fun and true story of following my gut and having everything turn out marvelously. I couldn't have plotted it better.
In October 2016, I participated in Indie Author Day at a library in the LA suburbs. The event was not very well attended, but it was my first time running an author booth and I met some great writers, so I tallied it as a success. I was so jazzed, the next day I signed up for a booth at the Los Angeles Times Festival of Books, at a significant expense and with little planning.
Panic began to set in. I feared I would be at a booth all by my lonesome for two days, watching thousands of readers pass by as they shunned me for being one of those weird loner writers.
To try to fix my predicament, I started conversations with the writers I had met and nudged them toward sharing the booth with me. Eventually, they agreed and we did do the event together. Better yet, in the process, as we got to know each other better, we figured out that we get along well, take a similar approach to our writing and publishing efforts, and we could do more together.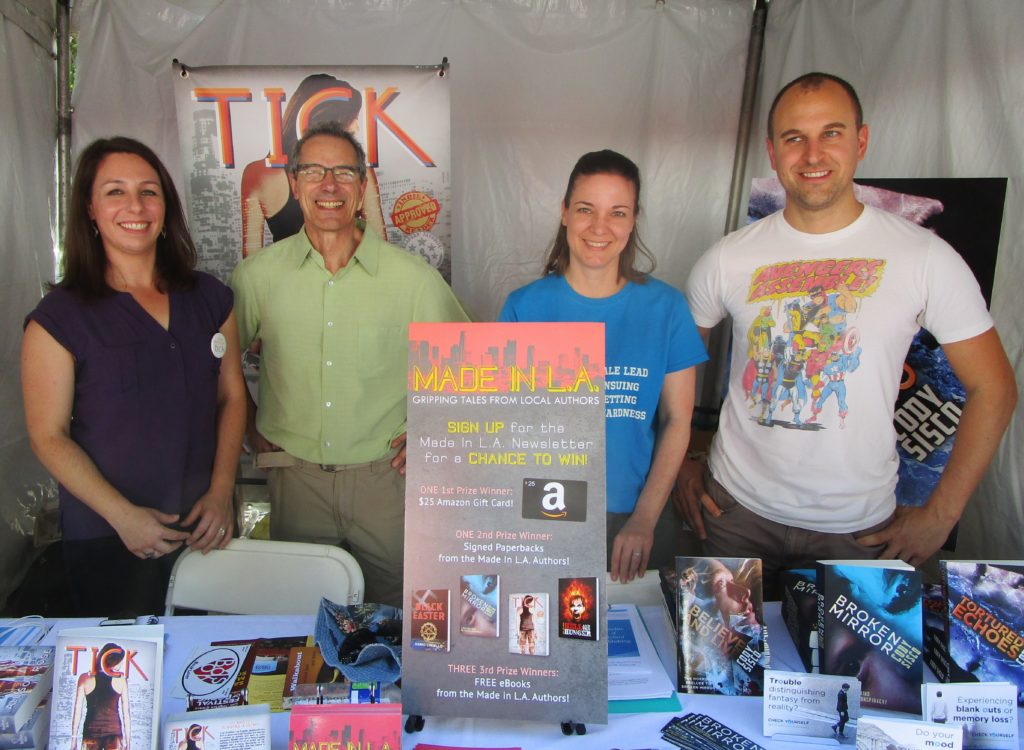 Thus was born the Made in L.A. indie author co-op (www.madeinlawriters.com). These are writers I fully endorse and would gladly do a dozen favors for and then ask them what else they need from me.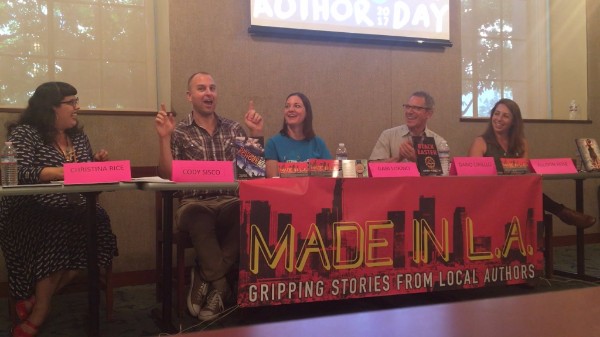 I'm very pleased to be able to recommend these authors and their books to you. You should check them out now because you'll be hearing more about them from me for years to come.
Allison is a novelist and screenwriter from Los Angeles. Tick, the first in her young adult science fiction series, tackles themes of mental illness, artistry and violence. It will be followed by Vice, part two of the Tick Series. While Rose's stories vary in genre, her focus centers on the struggles of complex female characters.
Gabi writes comedies starring socially awkward women who occasionally interact with men. Her tales are based on her 20+ years in the dating world and hilarious stories told by friends and sisters. Gabi is a proud member of Generation X, and she's heard more than once that her characters "act a bit younger than they are" and maybe "need an attitude adjustment," which makes her love them even more! A Magical Time Called Later is her first ebook and is Book One of the Socially Awkward Series.
Links to their books and social media outposts can be found at www.madeinlawriters.com.
#4 The Future of Publishing (Up-and-Coming Talent)
This summer, I was privileged to join the inaugural class of the Los Angeles Review of Books (LARB) / University of Southern California Publishing Workshop.
Over five weeks, my fellow Fellows and I heard from over seventy speakers about the future of the publishing industry and worked on group projects (more on that tomorrow). This was a fantastic opportunity to supercharge my writing and publishing career for which I'm very grateful.
If you know someone who might be interested in applying to the 2018 workshop, send them here to learn more: https://thepublishingworkshop.com
If you would like to support future fellows, you can help fund scholarships here: https://thepublishingworkshop.com
Following the workshop, I helped evaluate the results of the program via an alumni survey and I'm now helping LARB part-time with alumni affairs. My aim is to foster an active, connected, and supportive alumni community. Among other things, I put together a bi-weekly job listings email and organize virtual and in-person meetups.
You can help these amazing folks network and forge their own publishing paths!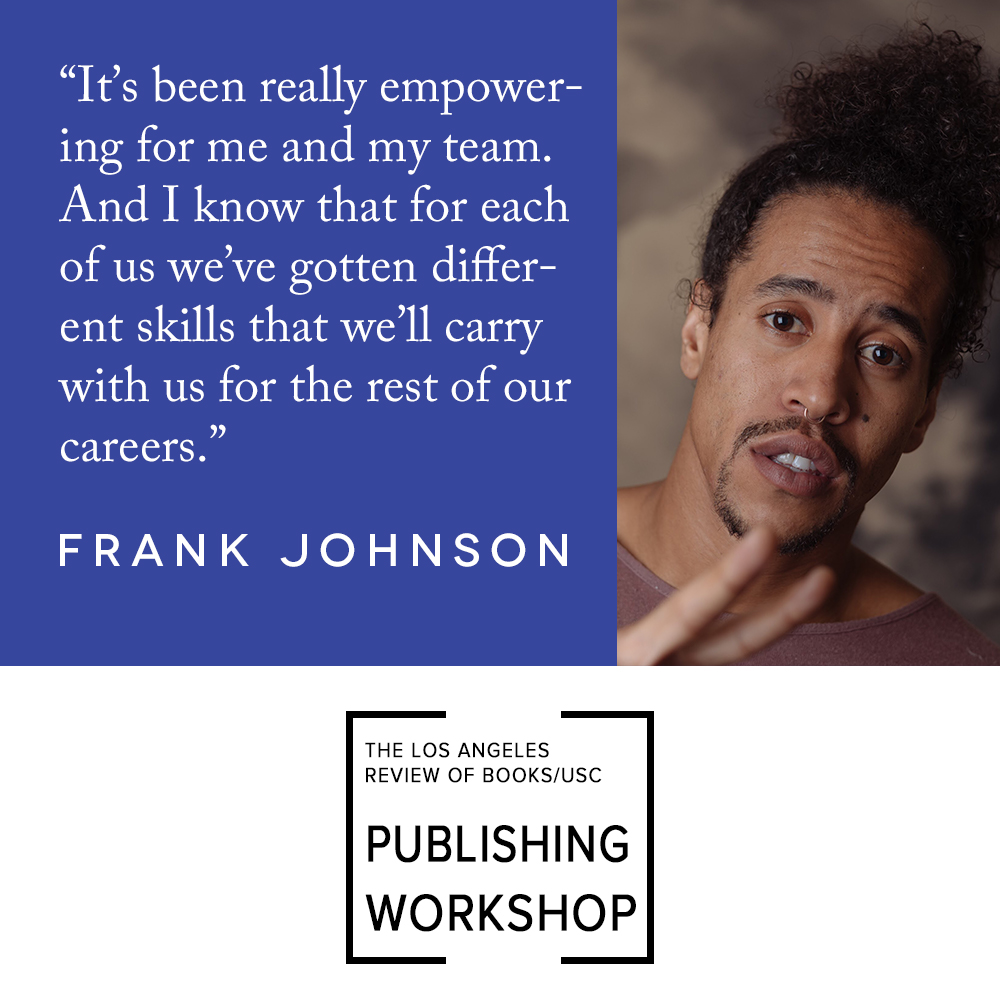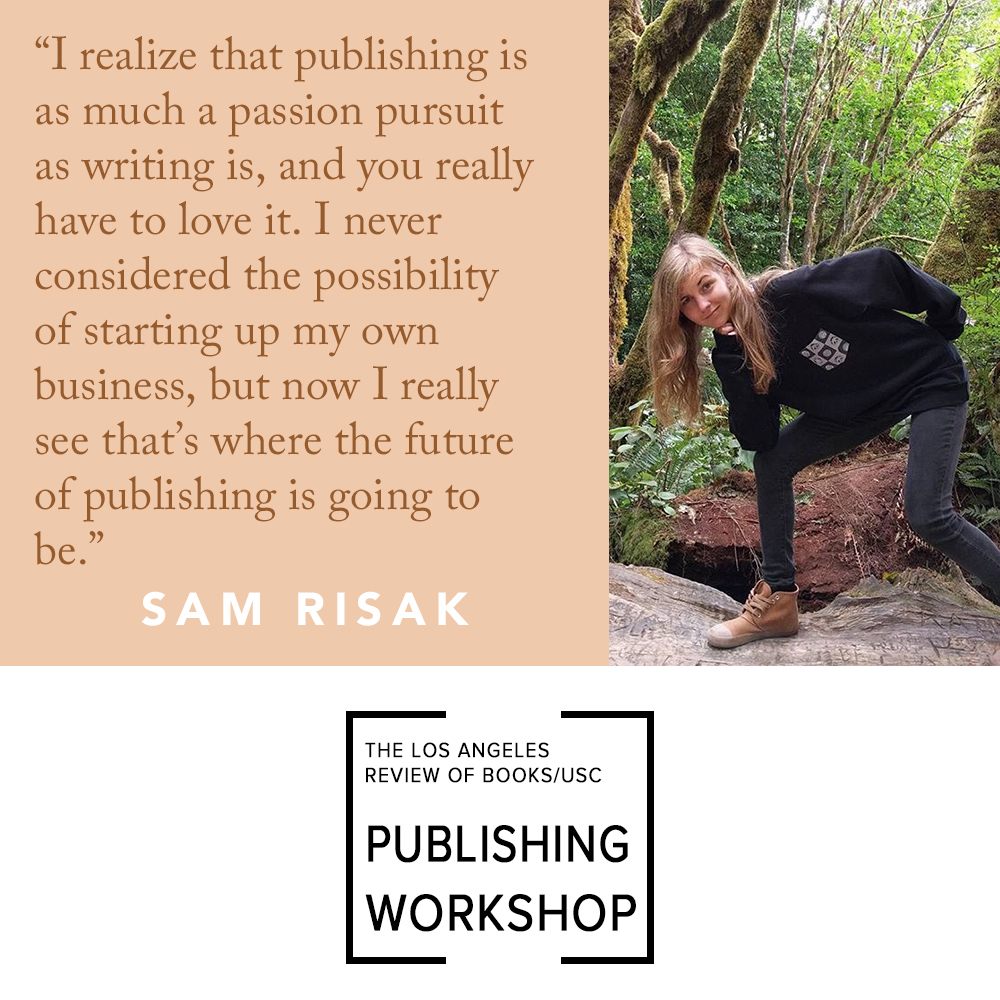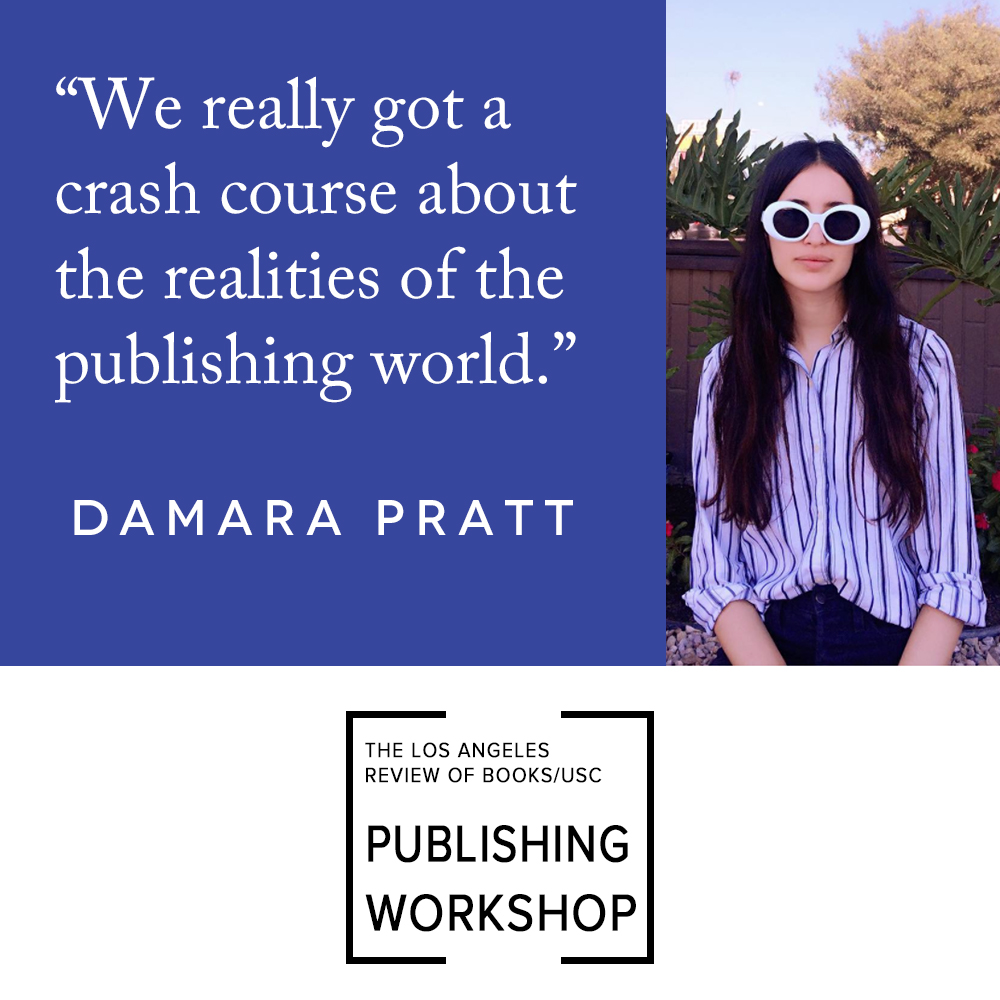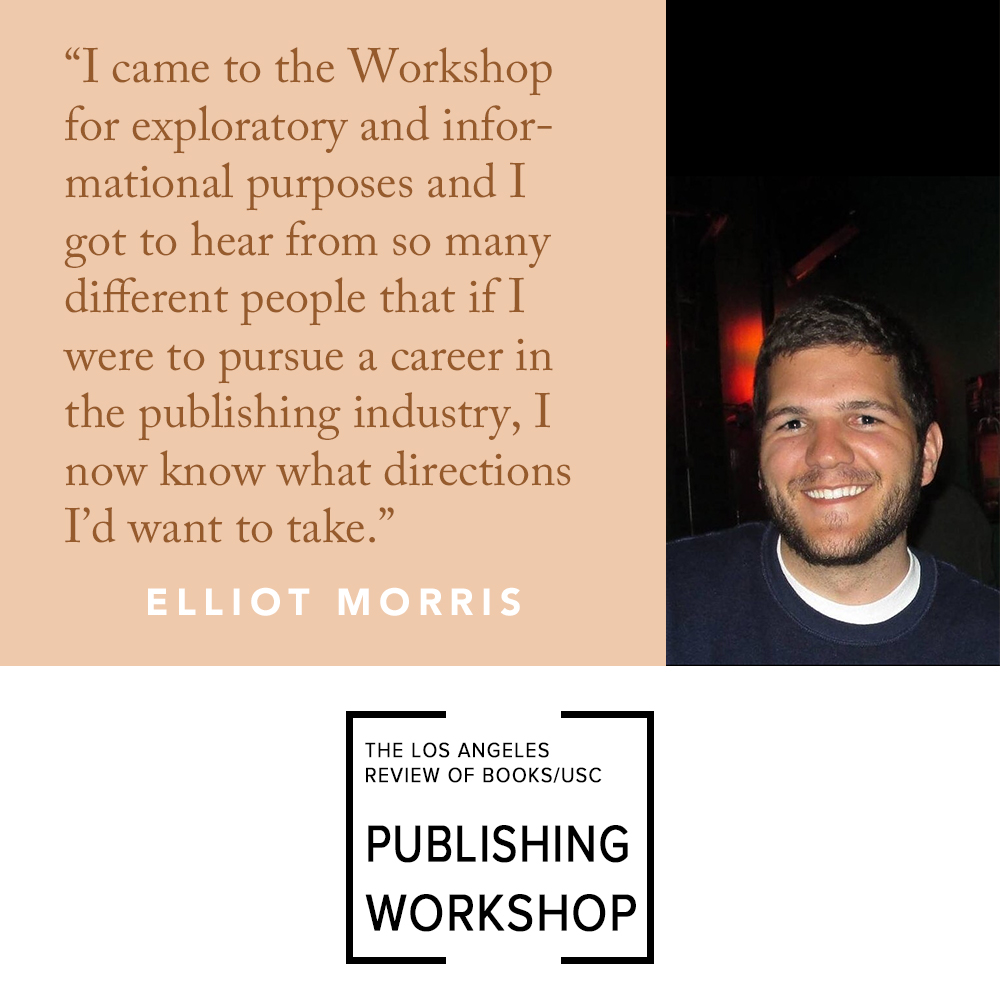 If you know of open positions or freelance opportunities related to any of the following areas, especially related to arts and entertainment, please get in touch at mailto:cody@lareviewofbooks.org
writing, editing, and publishing (print and/or digital)
social media management
podcast production and interviewing
project coordination and administration
events management
anything that requires intelligent, organized, passionate dedication from the next generation of writers and publishers
#5 Building a Literary (and Literate) Culture
I started a business!
The idea grew out of both the Made in L.A. writers and LA Review of Books Publishing Workshop discussions I was having this summer.
My company's name is BookSwell LLC.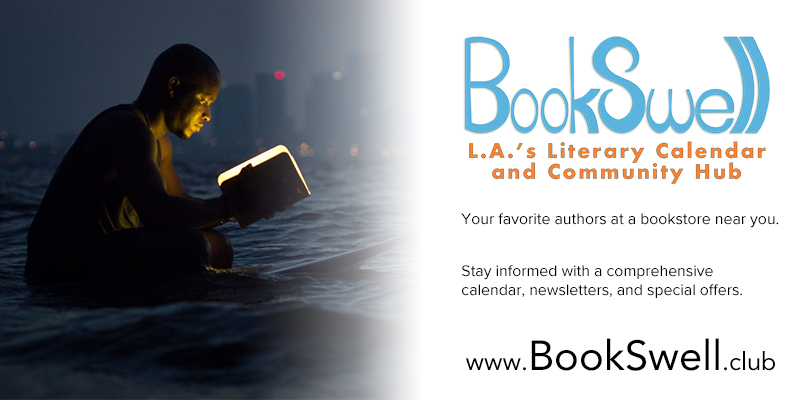 The long-term goal of BookSwell is to make literary culture in L.A. accessible to a mass audience. Before BookSwell, you'd have to hunt pretty hard to find out what's happening in the book scene.
Now all the events are listed in one place and someday, hopefully soon, it'll be host to all the context someone would need to be an informed audience member at any literary event.
So how am I going to do this? For the moment, I compile a comprehensive calendar of author appearances at bookstores and festivals at www.bookswell.club, and I send out daily and weekly newsletters to keep readers informed of their favorite author appearances.
Going forward I'm looking to partner with authors, bookstores, publishers, literary organizations, and publicists to reach out and build audiences around IRL and virtual author events.
In contrast to some similar services, I don't discriminate when it comes to genre or draw arbitrary lines around what's considered "literary." Every book has an audience just waiting to find it.
If you live in L.A. or visit often and you'd like to stay informed, you can sign up at https://www.bookswell.club/subscribe/ or simply visit the events calendar whenever you wish at https://www.bookswell.club/events/